Which professional should you call on for help – a real estate agent or a property manager?
Property managers and real estate agents are in two separate industries that sometimes overlap. Property managers perform and focus on growing your investment to generate income, while real estate agencies focus more on buying and selling properties, and only offer property management as a secondary service.
It's easy to understand why some people confuse one for the other: they both deal with properties. Depending on your needs, and what you're looking to accomplish, you should learn the distinction between these two professions so you can decide who to call on for help.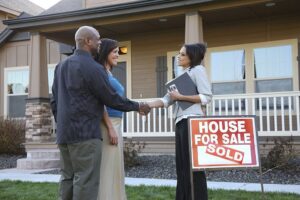 Responsibilities
To better understand the distinction between real estate agents and property managers, it's essential to look at their primary responsibilities.
Real estate agents
Real estate agents typically facilitate property buying, selling, and renting. They act as a guide for open houses, listing services, and online and digital promotion of the property.
They also perform the following:
Show negotiation skills between the buyer, seller, tenants, and landlords
Analyze and provide real estate market condition data to clients
Ensuring the efficient property transfer
Securing the sale process and terms
Works in a real estate agency
Property managers
Property management companies take care of rental properties in place of the owners.
Before they manage different properties, they first must agree with the property owner stating the percentage of rent paid.
A property manager is a person who can offer property management services such as:
Take care of marketing your company to potential tenants.
Find and screen potential tenants
Handle contract signings, and collect rent on behalf of property owners
Draft rental agreements
Take care of repairs and property maintenance and address tenant concerns.
Works in a property management firm
Though both are involved in renting properties, real estate sales are a transactional business, but managing a property is a contractual business. This is the main difference between the two sectors of the economy.
Education and Qualifications
Like in most industries, you need to meet a few qualifications so that you can practice your profession. The same things apply to both real estate agents and property managers.
Real estate agent
The requirements to become a qualified real estate agent in the United States will vary in state laws. However, there are a few qualifications that are essentially the same no matter where you are.
These include:
Being at least 18 years old (or older in some states)
Legal residency
Pre-license education
Real estate salesperson license
Can work off-site or on-site
Property manager
Before property managers work in the field, they must have knowledge about the following:
Agency
Contracts
Fair housing
Rentals and leases
Additional education in business administration, marketing, or accounting
Two years of experience as a real estate salesperson
Can advertise multiple properties in MLS Sites
High school diploma
To be confident in the field some people are enrolling themselves in real estate education courses. There are states that make this course works as a pre-licensing requirement.
Or sign up for classes offered by associations like the National Association of Residential Property Managers (NARPM) and the Institute of Real Estate Management (IREM), which can help a property manager and give them a competitive advantage in the real estate marketplace.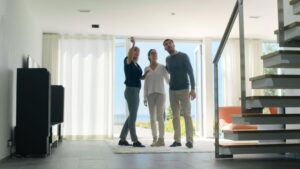 Licensing
There are two common types of real estate license in the real estate industry: a real estate broker's license and a property management license.
Depending on what the states require, you might need one, both, or neither of these licenses to practice. Only six states, in actuality, don't demand that you have a permit to engage in fundamental estate-related operations.
Compensation
Compensation for a real estate agent and property manager also has a few key differences. Generally, a real estate agent receives a commission for the disposal of a property. However, there is usually a real estate agent income bracket. But, they can still differ in terms of income sources.
On the other hand, a property management company is often paid a percentage of the rent collected. There are instances where the charge is a fixed rate.
According to the Bureau of Labor Statistics, a property manager gets an average yearly salary of $59,660.
Managing residential, commercial, or industrial assets includes property, real estate, and community association managers. In contrast, the average annual salary of real estate sales agents is $62,990.
The Property Management Industry
Though the real estate industry has a lot of professionals claiming to deliver the best deal and service to you, you should be mindful enough to spot the one with more credibility.
Make sure to purchase or get your home from a trustworthy realtor. Then, if you need help managing, maintaining and running your investment property, you can call on a reputable local property managers like First Commercial here in Tulsa, Oklahoma.